Have you been looking at new construction and finding that it's not exactly meeting your needs? That the homes on the market may have some but not ALL of what you're looking for, and you find yourself wanting to make changes once you move in? Then our design & build now pay later new construction program is the one for you! Check out this video to see an overview of our new construction process. Interested in learning more? Give us a call today at 1.844.KW.METRO for more info and to schedule a FREE CONSULTATION to discuss your needs. As always, thank you for allowing the Red Door Metro Team to be your doorway to better living!
Build Your Home Now, Pay Later With Our New Construction Program
Having been in the real estate business for years, we understand how challenging it can be to build your new home, especially if you're doing it for the first time. That's why our Build and Design Now, Pay Later program is designed to help people build their dream homes while enjoying the perks of endless customizations, flexible financing, and much more.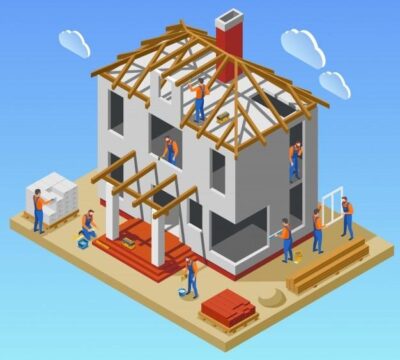 Source: Freepik
Overview of Build and Design Now, Pay Later Program
Under this program, we follow seven steps to help you achieve the house of your dreams.
1. Initial Consultation
The first thing we do is sit down with you and discuss in detail your wants and needs for the home. We act as matchmakers, trying to match you with the appropriate builder to ensure the best fit for you.
2. Choose Your Lot
One of the most critical decisions that you'll make is choosing your lot. After consultation, we provide a preliminary analysis to make sure the lot is a good fit for the type of home you're looking to build. We typically have several prime lots available at any given point.
Even if you already have a lot, we can help you facilitate the process of building by partnering you with the right builder. Sometimes your existing lot may not work for what you want so we can assist in transitioning you from one lot to another.
Keep in mind that many of the good lots never make it to the market. Leveraging our network, we ensure you have access to options that are way beyond what you see online – often before they even hit the market.
3. Planning & Initial Design Consult
Once we identify the lot, we proceed to the planning stage where we review your needs and wants and design a home that fits your lifestyle. We don't follow a cookie-cutter approach. Instead, we customize each home so it fits perfectly on the lot and is unique to you.
Our initial design consult includes:
Building out floor plan and elevation for submittal to the County
Industry connections and relationships within the community to help ensure a smooth process.
Selections schedule with deadlines
4. Initial Walk-Through
This is when the home starts to come to life. This step includes mapping out the home during framing stages with opportunities for changes. We do a walk-through with you to ensure that everything is, as you want – from the placement of the windows to where the outlets and lights will be installed.
5. Design Center
Building your dream home involves a lot of decisions. However, many builders require you to make all selections at the very beginning of the process with limited choices on finishes. We bring you in at various times to assure that the placement of things is exactly where you want them.
Many of our primary builders utilize an 8000 sq foot design center with endless options, allowing you to truly customize your dream home. This is the biggest advantage of the Red Metro New Construction program. You get exactly what you want!
6. Near Completion Walk-Through
As we approach the end of the construction, we make sure everything is lined up the way you want. In this step, we do a thorough walk-through of the home and conduct any third-party inspections. We also conduct blue tape inspections for any cosmetic items to ensure that everything is perfectly completed to your satisfaction.
7. Settlement Day
This is the day when you're actually going to pay for the house. Although it's the final step in the process, we continue to be your resource well beyond the transaction. We also provide you with a comprehensive vendor list if you desire to personalize the home to your lifestyle even further.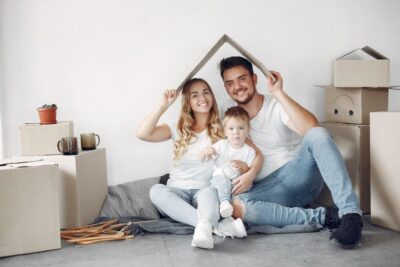 Source: Freepik
Benefits of Our New Construction Program
Here are some of the reasons why you should consider being a part of this program:
Builder is buying the lot for you, which saves you from all the hassle and risk involved.
You lock in your price from the start, so there are no sudden surprises.
You can move in with instant equity upon completion. Once the home is complete at settlement, our data suggests that it appraises anywhere from 7% to 18% higher than what you pay for it.
If you have to sell a home first, we offer a package deal on your home sale when purchasing new construction to save you money.
If there is an existing property on the lot, you can donate the structure to a nonprofit and receive a substantial tax benefit.
You enjoy full flexibility with any changes at every step of the process.
Throughout the entire process, you are represented by an agent who has your best interest in mind.
Reasons Why Going Directly to the Builder Can Cost You
Building a home is perhaps one of your largest investments. That's why it is critical to ensure that you have representation throughout the entire process. However, you lose representation with many mainstream builders when you walk directly into their sales center without an agent.
Their sales associates naturally represent the builder and their best interests, while you need an agent to be able to represent you and your best interests. Also, there are communities out there where, if you go without representation, you don't receive any financial benefit from them.
Through the experience of working with multiple builders, our team has gained the expertise needed to navigate you through the complex scenarios that can arise. We understand the trends in the market and the norms, so we can get you the best possible deal.
How to Determine If Your Builder is Ethical, Reputable, and Credible
Here are some questions that you should ask your builder before you say yes to them:
How did they get involved in the business of building homes?
What is their track record?
What qualifications or background do they have?
How long have they been building for? (Under their current name?)
How many homes have they built?
How many projects do they undertake per year?
How detailed is their spec sheet?
Do their spec sheets meet modern standards?
Are they able to verify their license(s) via government sites?
Can they provide a portfolio of their past projects?
Can they provide references from past clients?
Have there been any complaints or lawsuits against them?
What do past agents that have worked on the transaction have to say about how the experience was before, during, and after the build?
What Sets Our Financing Apart?
We offer flexible financing options including:
Extended Rate Locks
Jumbo Loans (as little as 10% down for up to $3m)
Bridge Financing
Interest-Only Loans
When you become a part of this program, we can help you sell a home before even going to settlement on the new contract. You also get the option of bridge financing. Plus, you can capitalize on property appreciation while your home is being built. Moreover, the construction, which is the larger purchase, is locked in at your agreed price. Therefore, it's the ultimate win-win in every aspect.
Build Your New Home with Red Door Metro
Red Door Metro is a trusted resource that guides buyers and sellers through the complex and ever-changing world of real estate. Our experts represent the best and brightest in the industry, putting your interest above everything else. With our extensive knowledge, concierge approach, and commitment to providing results to our clients, we're here to ensure you enjoy comfortable living.
To learn more about the new construction program or request a free consultation, call us at 1-844-KW-METRO.